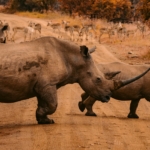 Back
Project Anton: Partnerships in Combatting Illegal Wildlife Trade
July 2023
Following our private screening of RHINO MAN, Barry MacKillop (Deputy Director – Intelligence, FINTRAC) reports on progress made by Project Anton – an international public-private partnership fighting illegal wildlife trade to honour the legacy of the late Anton Mzimba.
Partnering to combat a global threat
On 31 January 2023, the Financial Transactions and Reports Analysis Centre of Canada (FINTRAC) and a global network of public and private sector entities announced the creation of Project Anton, an innovative international public-private partnership aimed at improving awareness and understanding of the threat posed by illegal wildlife trade in Canada, and targeting the laundering of proceeds from this appalling crime domestically and internationally.
Illegal wildlife trade is a major and growing threat to global biodiversity, imperilling endangered species, and threatening fragile habitats, communities and livelihoods. It is considered to be a lucrative, low risk and high reward criminal activity, often involving fraud schemes, tax evasion and other serious crimes that facilitate the illicit enterprise.
The Financial Action Task Force has identified illegal wildlife trade as a major transnational organised crime, which generates billions – some have estimated approximately $20 billion – in criminal proceeds annually.
By following the money and generating actionable financial intelligence for law enforcement in Canada and around the world, Project Anton is assisting in identifying, pursuing and prosecuting perpetrators and broader networks linked to illegal wildlife trade.
Successes since the launch of Project Anton
Since the launch of Project Anton, FINTRAC's Operational Alert has been reported on by over 645 media outlets around the world, to a potential audience of 288m people. FINTRAC's social media channels have been viewed over 34,000 times, increasing awareness of this global threat.
The launch of this international partnership has also generated significant interest from a wide range of relevant stakeholders who have reached out to the Project Anton team to explore possible avenues for collaboration. This has included engagement with the World Customs Organization, the United Nations Office on Drugs and Crime, Interpol, financial intelligence units from several countries, and additional non-profit and non-governmental organisations (NGOs).
The project also featured in an edition of Border Security Report, highlighting the importance of sound border controls given the cross-country movements of illegal wildlife trade.
Under the umbrella of Project Anton, financial intelligence units across the globe, such as AUSTRAC in Australia, FIU Netherlands, the Financial Intelligence Center in South Africa, the Suspicious Transaction Reporting Office in Singapore, and global NGO TRAFFIC collaborated to develop a toolkit on the laundering of proceeds from the illegal wildlife trade.
The first of its kind, this toolkit includes established money laundering indicators, keywords relevant to illegal wildlife trade transactions, and a list of publications from valuable sources regarding the financing of the illegal wildlife trade. This new toolkit will improve detection and analysis capabilities and further support other financial intelligence units committed to combatting the laundering of the proceeds of crime from the illegal wildlife trade.
Over the last couple of months, FINTRAC has also engaged in various opportunities to highlight the significant economic impact of the illegal wildlife trade and the importance of combatting this heinous crime to help protect fragile habitats, communities and livelihoods. The Centre has presented to various audiences around the world, including to financial institutions, government organisations, NGOs and others, on the importance of following the money and leveraging the power of financial intelligence to help identify criminals and networks profiting from this crime.
Most importantly, because of the indicators presented in its Operational Alert, FINTRAC has received an increased volume of financial transaction reporting on suspected money laundering associated with the illegal wildlife trade from a variety of businesses. This has led to over 30 tactical level disclosures of actionable financial intelligence to Canadian law enforcement agencies and international financial intelligence units.
FINTRAC's financial intelligence often contains thousands of financial transaction reports in each disclosure, which speaks to the complexity of connecting the flow of illicit funds involving organised criminal groups. These disclosures are also regularly provided to several agencies simultaneously when there is authorisation to do so. This ability to provide multiple disclosure packages and follow the money means that FINTRAC can help law enforcement and national security agencies connect criminal activities and operations across a number of domestic and international jurisdictions.
Moving forward
With the volume of financial transaction reporting increasing, and as Project Anton expands to include new members, each enhancing the collective knowledge of relevant money laundering methods, typologies and indicators, FINTRAC will continue to provide actionable financial intelligence disclosures to help identify networks involved in the illegal wildlife trade domestically and around the world.
FINTRAC continues to foster its key relationships with organisations and programmes like United for Wildlife to increase the understanding of the significant impacts and repercussions of the illegal wildlife trade. Together through the dedicated partnerships under Project Anton, we will continue to target, disrupt and dismantle the organised criminal networks that profit from this insidious illicit activity.