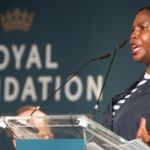 Back
In Conversation With Xolisile Khanyile
March 2023
To mark International Women's Day, we caught up with United for Wildlife member Xolisile Khanyile, a career prosecutor who has served in law enforcement agencies for over 20 years.
Q: What drives you?
Making a contribution to the fight against crime and to justice. The need to be impactful, to make a difference and add value in ensuring that South Africa and the world is a little bit safer each day.
I am a career prosecutor and have spent my professional life serving in different roles in law enforcement and prosecutorial agencies. I derive a sense of purpose and satisfaction from knowing I play a small part in righting wrongs, holding criminals accountable for their offences, encouraging young people to dedicate their careers to helping our country, and to fulfilling the immense potential that I know my country has. It is often said that service to mankind is service to God and it is something I strive to live by.
Q: You've played a huge role in transforming South Africa's response to the Illegal Wildlife Trade (IWT) – why were you so focused on making IWT the first expert working group for the South African Anti-Money Laundering Integrated Task Force (SAMLIT)?
South Africa is known for our amazing wildlife and the national parks dedicated to keeping populations safe and thriving. Unfortunately poaching is a horrific reality for us as well, thus IWT and the fight against it is an ongoing project. However, just celebrating arrests of poachers and seizures of horns and tusks is not good enough.
IWT is not a normal environmental offence. It is a gateway into organised crime led by international syndicates. The kingpins simply replace the poachers. It's easier and cheaper! However, by using financial intelligence to follow the money, we can directly tackle and disrupt organised crime. The money leads you to the kingpins that are generating millions of dollars from IWT, but only a fraction of cases have historically involved the use of financial intelligence.
A success of the SAMLIT is that we can now have more than 4 – 5 banks sitting together and contributing financial information that gives a better view of a subject's criminal activities. This is critical as criminals do not use one bank. They use many to conceal their activities and confuse the system. In the past we would receive one suspicious report from one bank based on a single transaction. Now we have the benefit of a team-based, targeted approach allowing more banks to investigate one case, creating admissible evidence that's easy to use for our law enforcement agencies, who are also part of the SAMLIT.
As South Africans, we pride ourselves on the Big 5 – African lions, leopards, rhinoceros, elephants, and Cape buffalo. It was an obvious choice to gather our resources, skills, knowledge and expertise to protect them. Love for our country and her natural resources is impetus enough to want to protect her at all costs. We are home to so many of the world's most majestic, beautiful creatures – if we don't protect them, who will?
Q: What have been the most important successes of the SAMLIT Expert Working Group (EWG)?  
Since the onset of the EWG and the SAMLIT report Financial Flows Associated with Illegal Wildlife Trade in South Africa, we have seen an astounding 60% increase in IWT reporting. We have also seen successes in money laundering investigations and subsequent prosecutions. Law enforcement is now focusing not just on predicate offences but extending their investigations to include money laundering in IWT cases.
However in my view, the major successes have materialised in having the private sector and public sector trusting and understanding each other, cooperating as equals and being excited about working together. In the past, the blame game was rife – public sector versus private sector, assigning blame for failings in tackling crime. Through SAMLIT, we have seen a visible paradigm shift where our stakeholders not only work together cooperatively, but also acknowledge the roles that they each play and trusting each other.
We have also started sharing our experiences with international partners, namely Canada, Mauritius, the United Kingdom and the Eastern and Southern Africa Anti Money Laundering Group (ESAAMLG). We recently supported the Financial Transactions and Reports Analysis Centre of Canada (FINTRAC) on Project Anton, named after a South African national parks ranger who was killed by poachers. This was an excellent collaboration and we wish to see more of these joint strategic initiatives going forward.
Q: Did you anticipate that SAMLIT would achieve the level of success that it has in tackling IWT in South Africa?
Once the expert working group was established and the commitment and knowledge of the team was realised, we knew we could tackle any task and make a tangible difference. The cooperation between members, stakeholders and organisations volunteering their resources and assistance made success inevitable.
Fundamental to the success of a partnership like SAMLIT has been commitment from the members, strong leadership, identifying the correct resources and being willing to form partnerships with the right organisations who are already subject-matter experts. Leveraging their talent and knowledge has proved invaluable. We also ensure that our partners are aware of the role they have played and the value of their contribution.
United for Wildlife (UfW) has been instrumental in assisting us and taking our project global. We have partnered with Finance Against Slavery (FAST), the United Nations Office on Drugs and Crime (UNODC), Royal United Services Institute (RUSI) and Refinitiv. In short, SAMLIT and the expert working group is successful because of its partners.
Q: Wildlife traffickers are known to work across borders, yet around the world it's difficult to replicate that cross-border cooperation in the way crimes are investigated. What are your thoughts on the role of international collaboration in tackling wildlife trafficking?
IWT is a global problem involving multiple jurisdictions. International cooperation is an absolute necessity when tackling wildlife crime. Following the money has shown us that the syndicates who run IWT operations are usually sitting in another country. In order to make an actual difference, we need to have international collaboration with other Financial Intelligence Units (FIUs), law enforcement and organisations like United for Wildlife and Traffic.
The Financial Investigations in Wildlife and Forestry Crime project within my organisation (the Egmont Group) has also produced results, including raising the profile of IWT amongst international FIUs. Costa Rica now includes IWT and illegal logging in a document on environmental crime and risk management after responding to our questionnaire on illegal wildlife crime. The Nigerian FIU created the Natural Environment and Wildlife Trade Crimes Analysis Unit (NEWTCU) to combat the financial aspect of IWT.
These are just a couple of examples. The fact that these international FIUs are now dedicating efforts to tackle IWT is indicative of the importance they have placed on the issue, and their commitment to collaborate and cooperate to eradicate IWT.
Q: What advice would you give FIUs from other countries that would like to enhance their focus on investigating IWT and other financial crimes?
There are several key areas which need to be considered when addressing IWT. The effort needs to be national and centralised. Identify the relevant experts that know and understand the field of wildlife crime, their country's biodiversity and management of their natural resources. The investigation of how wildlife trafficking links from the provincial, regional to international level and how it links into the financial and transport sector matters.
You must also understand the investigative and financial language of your partners. Trust is essential and communication must be transparent to cultivate an integrated approach between government, private and public partnerships, whereby actions are executed with the highest integrity.
In 2021, Egmont published Financial Investigations into Wildlife Crime. It explains why FIUs are crucial in the fight against the illicit financial flows of wildlife crime, bringing out specific details about how FIUs can engage with their country's environmental agencies, law enforcement agencies, NGOs, and international organisations to better understand wildlife crime and support their financial investigations into this illicit activity more effectively.
Q: As chair of Egmont, what would you envisage as priorities for IWT?
My main priority is the establishment of more Public-Private Partnerships (PPPs). This includes strengthening the legal basis for collaboration, including cross-border sharing of information, supporting the development of PPPs in smaller jurisdictions, and PPPs to improve asset recovery outcomes.
Q: In your view, what does the future look like for tackling IWT in South Africa?
For me, an ever-increasing conviction rate is what I look towards. At present, South Africa has a 98% conviction rate which is indicative of the importance placed upon IWT. For the foreseeable future we want to see an increase in building complex money laundering cases and ensuring a paradigm shift where law enforcement understand that IWT is not a normal environmental offence, but a serious, organised crime.
Going forward I see the SAMLIT working with more cases and partners, ultimately resulting in the provision of more financial intelligence reports to law enforcement. I see a future where we disrupt and disassemble entire syndicates and arrest the leaders and kingpins, not just focus on poachers – the low hanging fruit who are easily replaceable. IWT is viewed as a low risk, high return crime – we need to completely eradicate this.
Q: Today is International Women's Day – what are your reflections on the role of women in tackling IWT around the world?
Women have a huge role to play not only in tackling IWT, but the fight against crime in general. Through their very nature, experiences and observations, women bring a different perspective to the table. Our instinct is to protect and fight to keep our loved ones safe. Extending that ability to protect our wildlife makes us an unstoppable force. Our diverse experiences allow us to not only act as agents of change, but to strengthen any space we find ourselves in.
"Women's representation in law enforcement and judicial institutions has been linked to more effective, victim-centered responses to crime." – UNODC
We need to support our sisters, give them a helping hand, and provide them with the opportunity to be involved in the fight against IWT.  While we have seen an increase in the number of women involved in tackling IWT, there is by no means enough representation. We need to invest in women and encourage their participation in a space that was previously deemed a masculine one. Women have natural skills and abilities suited to fighting crime, we absolutely must leverage this!