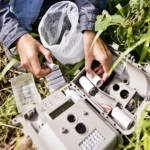 Back
United for Wildlife launches digital conservation technology network
November 2015
WILDLABS.NET is our new digital community network for conservationists, technologists, engineers and change-makers to connect, share and develop technology solutions for conservation.
Developed by the United for Wildlife partners, lead by WWF and Fauna & Flora International, with support from Google.org and ARM, WILDLABS.NET aims to close the current gap in information sharing, in a drive to develop better technology based solutions for conservation.
WILDLABS.NET allows for connectivity and collaboration on a scale never seen before in the conservation technology space. The desire is that this new digital community will result in faster development of more sophisticated field-based technologies for protecting wildlife by facilitating connections between people working in this area.
Why we need a network for conservation technology?
One of United for Wildlife's five commitments in tackling illegal wildlife trade is for better on-site protection for wildlife, which will help to stop the current poaching epidemic that is decimating wildlife populations.
Although technology is increasingly used to prevent poaching, the data captured and research findings from field tests and technology are often not shared. This lack of information sharing between technologists and conservationists is a barrier to developing technology based solutions for conservation.
Sharing information, ideas, connections and the results from trials and surveys is crucial if conservationists are to scale up this work and combat poaching.
A global community for technology-based solutions to conservation
WILDLABS.NET offers news on projects, technology based developments and funding opportunities, plus case studies and other resources on cutting-edge technology for conservation. Members of the community will be able to share best practices and collaborate on developing technology-enabled solutions to a range of conservation challenges.
Free to join and open to the public, members will be able to:
manage their own profile
add and update their content area of the site
review and discuss showcased technologies
Using mobile technology to connect field-based conservationists
WILDLABS.NET is designed to display on users mobile phones, which means anyone working in a remote area, for example a field-based conservation biologist, can update projects on a regular basis. This will also allow members to collaborate with others across the globe regardless of where they are located.
Commenting on the launch, Gavin Shelton, Head of Conservation Labs at United for Wildlife partner Fauna & Flora International (FFI), said:
"We all understand that cooperation is the key to accelerating the pace and scale at which we develop new solutions to biodiversity loss.
"Through the growing WILDLABS.NET community, we can discover and implement those solutions together."