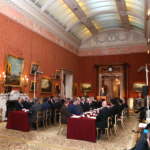 Back
The Buckingham Palace Declaration
March 2016
On the 15th of March, the United for Wildlife Transport Taskforce member organisations signed up to recommendations developed collaboratively over the last 12 months, with the historic first ever signing of a declaration at Buckingham Palace.
The declaration
After 12 months of meetings in London, Geneva, and Dubai and thousands of hours of work by legal, conservation, transport, and customs experts, the Buckingham Palace Declaration has been agreed as an action plan to strengthen defences against trafficking.
The Buckingham Palace Declaration is a landmark agreement committing to take real steps to shut down the routes exploited by traffickers of the illegal wildlife trade moving their products. The declaration takes steps to remove the vulnerabilities in transportation and customs to tackle the criminals currently exploiting them. The declaration will be signed by the taskforce members to represent their agreement to eleven commitments.
The commitments
The commitments aim to help support the Private Sector in fighting the illegal wildlife trade and focus on:
• Securing information sharing systems for the transport industry to receive credible information about high risk routes and methods of transportation
• Developing a secure system for passing information about suspected illegal wildlife trade from the transport sector to relevant customs and law enforcement authorities
• Notifying relevant law enforcement authorities of cargoes suspected of containing illegal wildlife and their products and, where able, refuse to accept or ship such cargoes
The Duke of Cambridge commended the signatories and explained what a difference this will make:
"By implementing these commitments the signatories can secure a game changer in the race against extinction. I thank them for their commitment and I invite any other company in the industry to sign up to the Buckingham Palace declaration and play their part in the fight against the poaching crisis."
The Duke of Cambridge and Lord Hague of Richmond visited London Gateway yesterday to see for themselves the challenge the Taskforce are taking on.
What's next?
United for Wildlife will now turn its attention to the implementation of the commitments. Make sure to follow us on social media and sign up to our newsletter to keep updated.
If your company would like to join the Transport Taskforce, please contact us at:info@unitedforwildlife.org