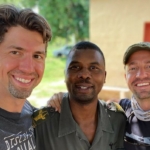 Back
Behind the scenes on RHINO MAN with Director John Jurko II
June 2023
RHINO MAN is a very human story, told through the eyes of South African rangers on the frontline of conservation. It follows Anton Mzimba, the Head of Ranger Services at the Timbavati Private Nature Reserve, as he and his team watch over their rhinos. Nearby at the Southern African Wildlife College, trainer Ruben de Kock and his wife Marianne struggle to inspire 41 candidates as they take them through ranger selection.
This documentary developed from humble beginnings. The impetus was the loss of one Africa's finest ranger trainers, Martin Mthembu. He was a powerful figure and mentor to many in the conservation sphere, training over 15,000 rangers.
When Martin passed in 2014, rhino poaching in South Africa was at its height, with over 1000 rhinos lost annually. Rangers were fighting a losing battle with little external support or recognition. My friend and Founder of the Global Conservation Corps (GCC), Matt Lindenberg, decided to honor Martin by highlighting their stories. This was how both the GCC and their first project, RHINO MAN, began—as an ode to the rangers. That was eight years ago.
When I picked up the torch in 2018, I came to RHINO MAN as a storyteller. I knew nothing about rhino poaching, rangers, or the dynamics of the illegal wildlife trade. I was drawn in by compelling humans fighting for something bigger than themselves, in a beautiful and unfamiliar landscape. 
When I got involved, there were many potential directions in which we could take the film. My desire was to tell the most emotionally gripping tale possible. To accomplish that, we needed to focus on the most captivating subjects the team had come across.
Matt and I flew to South Africa for a two week shoot to flesh out the new direction of the film. That's when I met Ruben and Marianne de Kock for the first time. I also met Anton Mzimba, who over the last five years became a close friend, and the lead ranger in our film. His story represented a ranger's life in the midst of the rhino poaching crisis.
When I returned, what really stuck with me were the people I encountered. They all had a deep love, not only for their work and for the wildlife they protected, but for each other. The bonds within their community were some of the most profound I had ever witnessed. The sacrifices these men and women were willing to make for a cause they believed in were beyond anything I had ever dreamed of making.
As the film was coming to completion, we received tragic news. On the evening of 26th July 2022, two hitmen came to Anton's home and shot him dead in front of his family. Anton, with his unwavering belief in his mission, made the ultimate sacrifice. It was a dark period of grieving and working to help take care of his family and team. 
In the last year, the film has taken on new meaning for me. It's become my mission to make sure Anton's legacy lives on through RHINO MAN, both a film and a podcast created to highlight these heroic conservationists, and through the work of GCC.
I want to thank His Royal Highness The Prince of Wales and United for Wildlife for all of their support over this last year. They have given us a platform to share the rangers' stories and that of our dear friend, Anton. We hope this private screening in London will be a catalyst for more awareness as we unveil our completed film to the world. We hope this story inspires members of the United for Wildlife community to continue their efforts to bring an end to the illegal wildlife trade. 
Finally, we are working diligently to ensure as many people as possible will have the opportunity to watch this impassioned ode to the rangers. We hope viewers will take their newfound awareness and channel it toward action. 
Together with our partners, the Thin Green Line Foundation, the Southern African Wildlife College, and the Timbavati Private Nature Reserve, GCC has created a social impact campaign, which will raise funds to inspire, develop, and train the next generation of rangers, while taking care of the families of fallen rangers. We seek to create local heroes of these rangers with screenings for communities bordering protected areas. And finally, we aim to grow our Future Rangers program, developing pathways for youth to connect with and benefit from wildlife and conservation areas. 
This is not just a film, it's a movement. We ask you to join us.