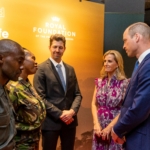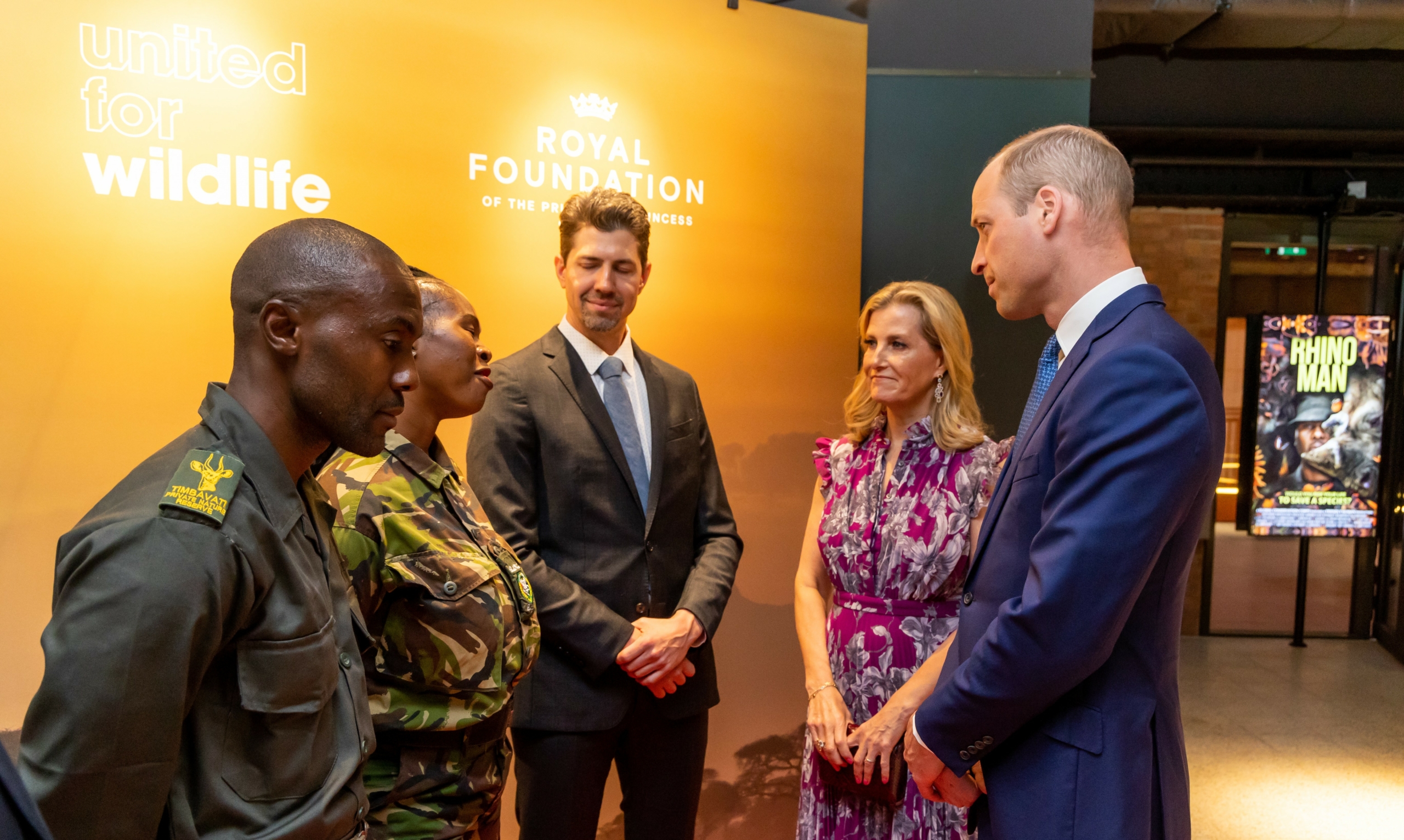 Back
United for Wildlife celebrates wildlife rangers at special screening of documentary film RHINO MAN in London
June 2023
Prince William and The Duchess of Edinburgh joined leading figures in global conservation in London at an exclusive private screening of RHINO MAN, a feature-length documentary about the courageous field rangers who risk their lives every day to protect South Africa's rhinos from being poached to extinction.
More than 150 guests attended the screening hosted by United for Wildlife, Prince William's initiative to fight the illegal wildlife trade, at the newly restored Battersea Power Station on Tuesday 13th June.
The documentary, which captures the race to train the next generation of rangers in South Africa to protect rhinos from poaching and trafficking, highlights the life and legacy of fallen ranger Sergeant Anton Mzimba who was brutally murdered at home in front of his family last year for his work protecting rhinos from organised criminal poaching networks. Anton's story, as told through the film, is a case study of the dangers faced by wildlife rangers across Africa and around the world as they fulfil their critical roles defending our planet's biodiversity.
"The murder of Anton Mzimba is a stark reminder of the daily dangers that all rangers face around the world protecting the natural world from the international criminal organisations that seek to profit illegally from wildlife and I'm proud to see his life and legacy recognised in RHINO MAN. This is not a burden they can bear alone.
"An effective response to this vicious crime demands attention and collaboration across the entire chain of criminal activity, not just on the front line. That is why United for Wildlife, through its global financial and transport taskforces, and wider alliance of partners, has taken action to ensure that those involved in wildlife crime will be met with an international response as powerful and coordinated as any other serious and organised crime."
– Prince William, President of United for Wildlife
The illegal trade of rhino horn typifies the international illegal wildlife trade, which is now worth up to $20 billion annually and is associated with violent crime, corruption and other forms of trafficking. United for Wildlife, founded by Prince William and The Royal Foundation, was set up to disrupt this transnational organised crime and make it impossible for traffickers to transport, finance, or profit from illegal wildlife products.
"At the current rate of poaching all rhinos in the wild could become extinct in the next two decades. It is inconceivable to think that rangers can protect these precious creatures alone, no matter how dedicated and excellent they are at their duties.
"They need collective action from governments, law enforcement agencies and private sector organisations to help stop a well-financed, highly organised and international enemy at source. Through United for Wildlife, we know a unified and coordinated response works. Sharing intelligence and best practice has led to an increase in arrests and seizures year on year. I take great heart from the progress we have made via our global network, which now includes almost 400 partner organisations."
– Amanda Berry OBE, CEO of The Royal Foundation
Ms Berry shared the stage with RHINO MAN's director John Jurko II and wildlife ranger Orlat Ndlovu, who spoke about Sergeant Anton Mzimba's legacy and the life of a ranger on the front line of the fight against the illegal wildlife trade.
"The power of RHINO MAN is that it is a human story. One which is told through the eyes of passionate and dedicated rangers holding the line in this battle against IWT.
"Through their personal stories, their trials and tribulations, their sacrifices for something bigger than themselves, I hope people will be deeply moved. Not only to support the rangers' important work, but to aid in the greater efforts to bring down crime syndicates and to inspire a generation who seeks to live in harmony with nature. That was Anton's dream. It is our job to pick up his torch and carry it forward."
– John Jurko II, Creative Director of Global Conservation Corps and Director of RHINO MAN
In the six years since creating its international transport and financial taskforces, the United for Wildlife network has contributed to nearly 500 law enforcement cases, over 300 arrests, over 200 seizures of wildlife products and has trained over 100,000 people. The network spans the globe – from Southeast Asia to South America, Europe to East Africa – increasing deterrents across the entire chain of demand and supply.