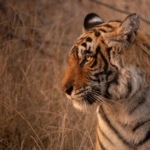 Back
Prince William will attend United for Wildlife Global Summit
September 2022
The Prince of Wales will attend the biggest-ever United for Wildlife (UfW) Global Summit, where he will deliver a keynote speech highlighting the serious and organised nature of illegal wildlife crime and its damaging impact on global biodiversity and local communities.
The summit will bring together over 300 global leaders from law enforcement agencies, conservation organisations and private sector companies who are part of the UfW network, highlighting their pioneering work to drive policy change and support criminal investigations, while galvanising a re-doubling of effort in the collective fight to end the illegal wildlife trade for good.
During the event, speakers will announce new policies and unveil global partnerships to help end the illegal wildlife trade, which is worth up to $20 billion per year and is associated with violent crime, corruption, and other forms of trafficking.
The summit will pay tribute to wildlife rangers, like Anton Mzimba, who are the frontline against commercial poachers targeting the world's most iconic species, while also emphasising the important role of the private sector and collaboration across sectors.
Speakers at the event will include Stephen Kavanagh, Executive Director of Interpol; Xolisile Khanyile, Director, Financial Intelligence Centre and former Director of Public Prosecutions for South Africa; Altin Gysman, Head, Protected Area Integrity/African Field Ranger Training Services at Southern Africa Wildlife College; and Raja Kumar, President of the Financial Action Task Force (FATF).
In the six years since creating its international Transport and Financial Taskforces, UfW has contributed to over 450 law enforcement cases, over 250 arrests, almost 200 seizures of wildlife products and has trained over 100,000 people either directly through resources created under United for Wildlife, or indirectly through resources inspired by our network. Its network spans the globe, from Southeast Asia to South America, Europe to East Africa increasing deterrents across the entire chain of demand and supply.