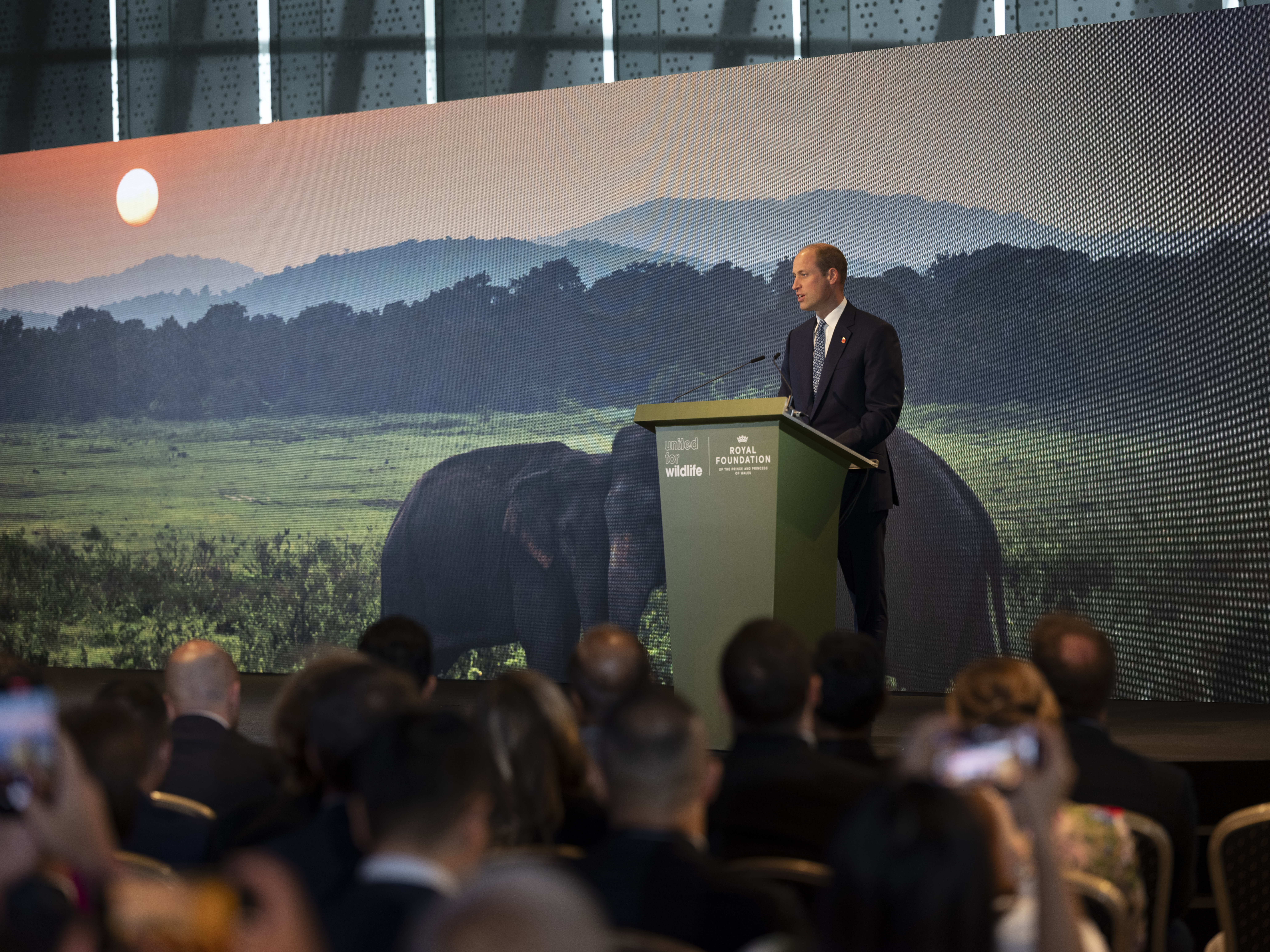 Back
Governments agree new measures to clamp down on financial crime fuelling the illegal wildlife trade
November 2023
Multi-national Statement of Principles is unveiled at the United for Wildlife Global Summit in Singapore.
In an unprecedented demonstration of global commitment to combat the illegal wildlife trade, the financial intelligence units (FIUs) of Australia, Canada, New Zealand, South Africa, Singapore, the United Kingdom, and the United States became the first countries to announce their support for international collaboration to detect and prevent the financial activity that sustains wildlife crime, through the Statement of Principles for a Multilateral Approach to Combating Illegal Wildlife Trade.
The world-first proclamation, convened by United for Wildlife, was unveiled today at the United for Wildlife Summit at Gardens by the Bay. To combat the trade most effectively, the Principles declare that "the signatory nations and intergovernmental organizations to this Statement of Principles believe that strong working relationships with foreign counterparts lead to effective and timely information sharing, open and robust dialogues related to threats and trends, and, where applicable, specific operations, thereby producing better results in combating the transnational organized crime of IWT."
"The criminals that trade rhino horn, tiger paws and pangolin scales are part of the same highly organised gangs that traffic drugs, arms and people. This criminal convergence makes the illegal wildlife trade as much a human crisis as an environmental one."
"I am delighted to announce today that United for Wildlife has led the creation of a world-first International Statement of Principles, agreed by international governments to prevent, detect, and deter the financial activity that sustains the illegal wildlife trade. This level of ongoing support will facilitate joint investigations and lead to more high value seizures and arrests."
Prince William, President of United for Wildlife
"Singapore supports the Statement of Principles and reaffirms our strong commitment to combatting illegal wildlife trade and the laundering of illicit proceeds. Illegal wildlife trade gravely threatens our planet's biodiversity and ecosystems. To combat this, Singapore has adopted a whole-of-government and multi-pronged approach to detect illicit financial and asset flows linked to illegal wildlife trade. Our environment and law enforcement agencies work closely with our FIU, the Suspicious Transaction Reporting Office (STRO) to exchange information, intelligence, and co-ordinate on joint operations and training. This is coupled with private sector engagement to strengthen detection capabilities and enable timely and effective information sharing."
Mr. Gregory Foo, Director, International Organisations and Security Directorate, International Cooperation & Partnerships Division of the Ministry of Home Affairs
"Working hand-in-hand with our partners across the globe enhances the effective prevention, detection, and disruption of the illegal wildlife trade, as it does with all international organised crime."
"Alongside our industry partners in Australia's public-private partnership, Fintel Alliance, we are proud to support this initiative to further our collaborative efforts to help stop those who try to profit from these crimes."
Peter Soros, AUSTRAC Acting CEO
"Since the launch of Project Anton, FINTRAC has seen the immense value financial intelligence and public-private collaboration, both domestically and internationally, can have in revealing criminal networks behind the illegal wildlife trade. As such, we strongly endorse the Statement of Principles and commend our fellow FIUs for joining with us in this important initiative.  Through our effective partnerships, we are disrupting the illicit profits that fuel this heinous crime and are taking meaningful steps towards preserving the incredible biodiversity of our planet for future generations."
Barry MacKillop, Deputy Director – Intelligence, Financial Transactions and Reports Analysis Centre of Canada (FINTRAC)
"The illicit wildlife trade is an insidious and abhorrent practice, which fuels corruption and other forms of financial crime, such as the laundering of money, directly impacting on people's lives. This practice is also leading to the extinction of species globally, upsetting the delicate balance of many ecosystems. We have the responsibility to ensure the protection and preservation of all species and our environment, through the combating of illicit wildlife trading worldwide, so future generations do not ask us, why did we not stop this."
Daniel Frost, Manager, New Zealand Financial Intelligence Unit
"The Financial Intelligence Centre South Africa believes that a united front across jurisdictions is required to fight the scourge of IWT, which has a devastating impact on our precious natural resources and comes with significant human and social capital costs."
"We therefore join other FIUs from around the world in endorsing the Statement of Principles for a Multilateral Approach to Combating Illegal Wildlife, as the foundation for effective collaboration in fighting this scourge. In the same vein, we are proud to participate in the United States–South Africa Task Force on Combating the Financing of Wildlife Trafficking as a practical example of such a multilateral approach."
Pieter Smit, Acting Director Financial Intelligence Centre, South Africa
"We are taking action to protect threatened species through the UK's Illegal Wildlife Trade Challenge Fund and are determined to tackle this multibillion-dollar criminal trade which threatens species with extinction, fuels corruption, and deprives some of the world's poorest communities of sustainable livelihoods.
"I'm pleased today to announce our support for this new Statement of Principles which represents a crucial step forward in inter-agency cooperation in the global effort to prevent, detect, and disrupt the financial activity behind these awful crimes."
UK Environment Secretary, Thérèse Coffey
"International collaboration is key to tackling illicit financial flows, and The United Kingdom Financial Intelligence Unit (UKFIU) is pleased to endorse the Statement of Principles. The UKFIU will pro-actively engage with the UK regulated sector and overseas partners on wildlife crime red flags potentially identified through Suspicious Activity Reports."
Vince O'Brien, Head of UK Financial Intelligence Unit, National Crime Agency
"FinCEN is proud to support United for Wildlife's Statement of Principles for a Multilateral Approach to Combating Illegal Wildlife Trade. We believe these important principles will be a key tool in promoting international collaboration to further support efforts to combat the illegal wildlife trade, a high priority for FinCEN, the U.S. Treasury Department, and the broader U.S. Government."
Andrea Gacki, FinCEN Director, USA
"The FATF has emphasised the need for strong multi-jurisdictional response to go after the international criminal syndicates that are laundering billions of proceeds from the illegal wildlife trade as set out in the Statement of Principles."
Raja Kumar, President of the Financial Action Task Force (FATF)
"Illegal wildlife trade is a serious crime and a global threat to our environment, economy, security and public health. As a global organization whose mission is to facilitate and prompt the exchange of financial intelligence to combat money laundering, terrorist financing, and associated predicate crimes, the Egmont Group fully supports the Statement of Principles for a Multilateral Approach to Combatting Illegal Wildlife Trade (IWT) set out under the auspices of the United for Wildlife. We are encouraged that many FIUs are driving their national strategies that target illegal proceeds and help combat money laundering derived from illegal wildlife trafficking. For global success against IWT, it is critical to have an effective and timely sharing of financial intelligence and an effective partnership with other governmental agencies, such as environmental agencies and law enforcement agencies. Egmont Group member FIUs are committed to enhancing investigative efforts by analysing the financial flows of wildlife crime."
Elżbieta Franków-Jaśkiewicz, Interim Chair of the Egmont Group of Financial Intelligence Units
The Summit focused on the power of international collaboration to end the illegal wildlife trade, shining a spotlight on success stories from Southeast Asia and beyond. As both a source and consumer market, as well as a major transport hub, the region is estimated to account for up to 25% of the global illegal trade. However, Southeast Asia is also at the forefront of tackling wildlife crime, with Singapore having had several successes in recent years.
The event was hosted by Mariana van Zeller, an award-winning investigative journalist and host of National Geographic's documentary series "Trafficked." She shared the stage with global leaders and representatives from several international organisations innovating and adapting their work in the collective fight to end the illegal wildlife trade.
Delegates heard a keynote speech from Farwiza Farhan, a passionate forest conservationist working with communities to protect, conserve and restore the Leuser Ecosystem in Sumatra, Indonesia. Farwiza highlighted the role of partnership working across sectors in tackling the illegal wildlife trade, praising the work of United for Wildlife in this space. She followed an earlier session led by National Geographic Society, featuring Nat Geo explorers who are tackling wildlife trafficking through a variety of different lenses.
The summit also highlighted the formalisation of the partnership between United for Wildlife and INTERPOL, through a Letter of Intent, pledging to combine their operational expertise and global networks to tackle IWT.
Speakers included Amanda Berry OBE, Chief Executive, The Royal Foundation; Rt Hon. Lord Hague of Richmond and David Fein, Co-Chairs of United for Wildlife; Raja Kumar, President of the Financial Action Task Force (FATF); Dr Sustyo Iriyono, Director of Environment and Forestry Protection, Ministry of Environment and Forestry of the Republic of Indonesia; Katherine Ford, Associate Director, Financial Crimes Enforcement Network, U.S. Treasury Department; and Dr. Noviar Andayani, Country Director, Wildlife Conservation Society in Indonesia.
Since the inception of its international transport and financial taskforces, United for Wildlife has supported over 600 investigations, nearly 300 seizures of illegal wildlife products, and the training of over 111,000 people to target and tackle wildlife crime.