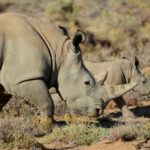 Back
Five years of progress in tackling the illegal wildlife trade
March 2021
Since its inception in December 2014, the United for Wildlife Transport Taskforce has been working to facilitate collaboration between the transport sector and law enforcement to prevent wildlife trafficking across the world.
The outcome of this work resulted in the formation and the signing of the historic Buckingham Palace Declaration on the 15th March 2016. The declaration includes 11 commitments to assist the transport industry in guiding a response to the crisis represented by illegal wildlife trade – detailing actions across a number of areas including increasing awareness, reporting and enforcing.
Five years on since the first signing, the Taskforces have grown to nearly 200 members and over 50 partners connected across the globe, who have worked together to make tangible contributions to law enforcement cases resulting in the arrests and convictions of major trafficking groups and seizures of elephant ivory, pangolin scales, and rhino horn.
Together they have supported over 150 law enforcement investigations, facilitated the search of over 120 suspicious shipments, enabled 49 arrests, and trained over 80,000 industry employees in counter illegal wildlife trade practices.
The commercial sector, in particular the aviation, maritime and finance industries, can become involved unwittingly with those who traffic wildlife products. Illegal wildlife trade is among the five most lucrative global crimes and is often run by highly organised criminal networks. Although such networks are difficult to detect and even more difficult to deter, combining forces with the private sector is crucial for us to stop the trafficking of wildlife products.
Worldwide, for every illegal wildlife product sold, money changes hands – whether in domestic pet stores, online marketplaces or under the eyes of corrupt officials. Financial institutions have a crucial role to play in the fight against illegal wildlife trade by using existing systems in place to look for money laundering and payments for illegal goods.
In response to the need to engage financial institutions in this effort to tackle the financial element of the illegal wildlife trade, The Duke of Cambridge established a bank-led Financial Taskforce in 2018.
Following its formation, the Financial Taskforce established the Mansion House Declaration. The Declaration lays out six commitments, including the dedication to share resources and intelligence in a bid to disrupt the illegal income generated by wildlife trafficking.
Together, the Transport and Financial Taskforces are working to put a stop to the illegal wildlife trade, for good.