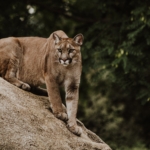 Back
How to win the global battle against the illegal wildlife trade
April 2022
Lord Hague of Richmond, Chairman of the United for Wildlife Transport Taskforce and Chair of The Royal Foundation of The Prince and Princess of Wales, writes in The Article ahead of the Americas' IWT Conference in Cartagena.
Delegates from across the world have come together for the Americas' IWT Conference in Cartagena, Colombia to foster further international cooperation for the prevention and control of the Illegal Wildlife Trade (IWT).
The IWT plays a central role in the senseless destruction of our flora and fauna. Over 7,000 species of wild animals and plants are currently being traded illegally around the world, with up to 100 million plants and animals trafficked annually.
The unprecedented levels of poaching, killing, and trafficking of animals are driving whole species to extinction. This is a global issue. With Latin America and the Caribbean home to over 50% of the world's biodiversity, it is unsurprising that the region is highly desirable to those involved in IWT. Colombia — a cradle of life and one of the world's 17 megadiverse countries — is home to 50,000 species of fauna with many of these located in the country's Amazonian region. There is more variety of nature here than in great swathes of the rest of the Earth and it falls to each of us to protect it.
Furthermore, the illegal wildlife trade does not just pose a threat to biodiversity. It is a serious and organised crime that robs local communities of sustainable livelihoods, fuels widespread corruption, and generates violence, not to mention the role it plays in spreading infectious diseases such as COVID and SARS, especially through the illegal bushmeat trade. The criminals involved are part of the very same groups who traffic people, drugs, and weapons. The IWT is the fourth most lucrative international organised crime worth up to $20 billion globally per year. Billions of dollars flow around the world, as the illegally sourced products are transported across multiple continents via air, land, or sea, servicing a vast trade chain.
As Prince William highlighted in a letter of support to the President of Colombia, these economic incentives, combined with the low probability of facing any legal consequences, make it clear why the IWT is so popular amongst gangs. However, the past few years have seen the global community fight back. Work across Government agencies, public and private sectors, and across borders is disrupting complex trafficking structures and starting to combat this international crime.
Six years ago, Prince William invited me to become Chairman of the United for Wildlife (UfW) Transport Taskforce and more recently, in 2020, I was honoured to take the position of Chair of The Royal Foundation. The Transport Taskforce, through The Royal Foundation, aims to make it impossible for traffickers to transport, finance, or profit from illegal wildlife products. By encouraging collaboration between the transport and finance sectors, law enforcement agencies and NGOs, we are working together to raise awareness of the illegal wildlife trade as a widespread and sophisticated criminal operation, not just a conservation problem, making it harder for these gangs to operate.
In 2016, we launched the UfW Transport Taskforce, bringing together some of the world's most prominent airlines, shipping companies, ports, logistics and freight organisations under the "Buckingham Palace Declaration", in which signatories made a series of commitments against the IWT. Two years later, 50 of the world's most prominent financial institutions followed suit, forming the UfW Financial Taskforce in 2018, on the eve of the London IWT conference.
Today, United for Wildlife encompasses over 250 international members working together to share knowledge and resources, and support law enforcement to seize assets, arrest, and convict major trafficking groups. For example, at the start of this year, UfW Taskforces worked closely with South Africa's Anti-Money Laundering Taskforce, Financial Intelligence Unit, and law-enforcement agencies, to respond to a spike in rhino poaching. A coordinated response, which included increased scrutiny at airports and marine ports, led to the seizure of rhino horns destined for Asia and several arrests were made within days of the original incident.
As the IWT Conference begins this week in Cartagena, I am pleased to see Colombia's leadership in raising awareness of the IWT and the strength of its law enforcement agencies in combatting it. My experiences working with the country and its leaders as Foreign Secretary have reaffirmed my view that Colombia is a frontrunner in introducing and implementing legislation to crack down on violent crime. I am particularly delighted that President Duque, so long a champion of biodiversity and its protection, has agreed to work closely with United for Wildlife, who will greatly benefit from Colombia's resources and expertise.
The natural world is our greatest asset. We must work together to protect the precious life that we haven't yet destroyed. I am pleased to say that the network of organisations that share this vision is committed, powerful, global, and growing every day.