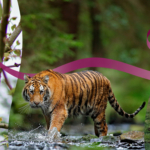 Back
Qatar Airways announced as United for Wildlife's Official Airline Partner
November 2023
We are proud to announce that Qatar Airways has today been designated our Official Airline Partner. Qatar Airways has consistently shown its commitment to protecting nature with its policy of zero-tolerance towards transportation of illegal wildlife products. We will be working closely with them to raise awareness of the illegal wildlife trade and the role of airlines in tackling it over the course of the next year.
"The illegal and unsustainable wildlife trade threatens our global biodiversity, and poses a risk to health and safety, particularly in marginalised communities. We are taking measures to disrupt this illicit trade in order to conserve biodiversity and safeguard our delicate ecosystems.
"As the Official Airline Partner, we believe that this ground-breaking partnership with United for Wildlife demonstrates our commitment to the Buckingham Palace Declaration and represents another important step in our commitment protecting wildlife. We remain committed to this mission and will persist in collaborating with our stakeholders to raise awareness of the impacts of illegal animal trade. In particular, we are proud of the achievements of our WeQare Rewild the Planet initiative for Qatar Airways Cargo, working tirelessly to protect our planet's most vulnerable species."
His Excellency Mr. Akbar Al Baker, Qatar Airways Group Chief Executive
"As founding member of our Transport Taskforce in 2016, Qatar Airways has consistently demonstrated commitment to tackling the illegal wildlife trade around the world. They were the first airline to complete the IATA IEnvA IWT certification and have implemented several initiatives to help prevent wildlife trafficking through their network.
"Qatar Airways' enhanced level of support in their capacity as our first ever Official Airline Partner is another example of their dedication to eradicating this harmful trade and preserving biodiversity for future generations."
Amanda Berry OBE,  CEO of The Royal Foundation of The Prince and Princess of Wales
Qatar Airways Group and Qatar Airways Cargo maintains a zero-tolerance policy towards the transportation of illegal wildlife and their products. As part of this policy, employees are required to undertake Illegal Wildlife Trade Awareness training. This training serves the dual purpose of enhancing knowledge and awareness about trafficking, as well as equipping employees with the skills to identify and respond effectively should they encounter any trafficking activities.
The airline has also demonstrated wider dedication to the protection of wildlife through its Rewild the Planet corporate sustainability initiative in 2020. As a part of the initiative, Qatar Airways Cargo encourages the preservation of ecological balance by providing free transportation services to organisations involved in returning wild animals to their natural habitat. A notable milestone of this initiative was the successful transportation of seven lions from Ukraine in 2021. This operation was indicative of Qatar Airways' dedication to supporting the efforts of NGOs and conservation organisations in their vital work to rewild our planet.